Order our new CD!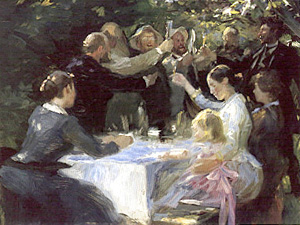 P. S. Kr°yer: "Hip, Hip, Hurray! Composition Study, 1888"
Skagens Museum, Skagen, Denmark
Used by permission.
George Bizet: Carmen Suite No. 1
Prelude
Aragonaise
Intermezzo
Seguedilla
Les dragons d'Alcala
Les Toreadors
Maurice Ravel: Pavane pour une infante defunte
Claude Arrieu: Quintet in C Major
Allegro
Andante
Allegro scherzando
Adagio
Allegro vivace
Morton Gould: Pavanne
Jean-Michel Damase: Dix-Sept Variations
To order copies directly from the Quintet,
please send your check for $14.95 (in US dollars please) to
Capitol Woodwind Quintet
6909 Murray Lane
Annandale, VA 22003
USA
Thank you!
[ Home | History | Artists | Season | Tickets | Reviews ]