Artists
Join Us in our Gala 35th Anniversary Celebration!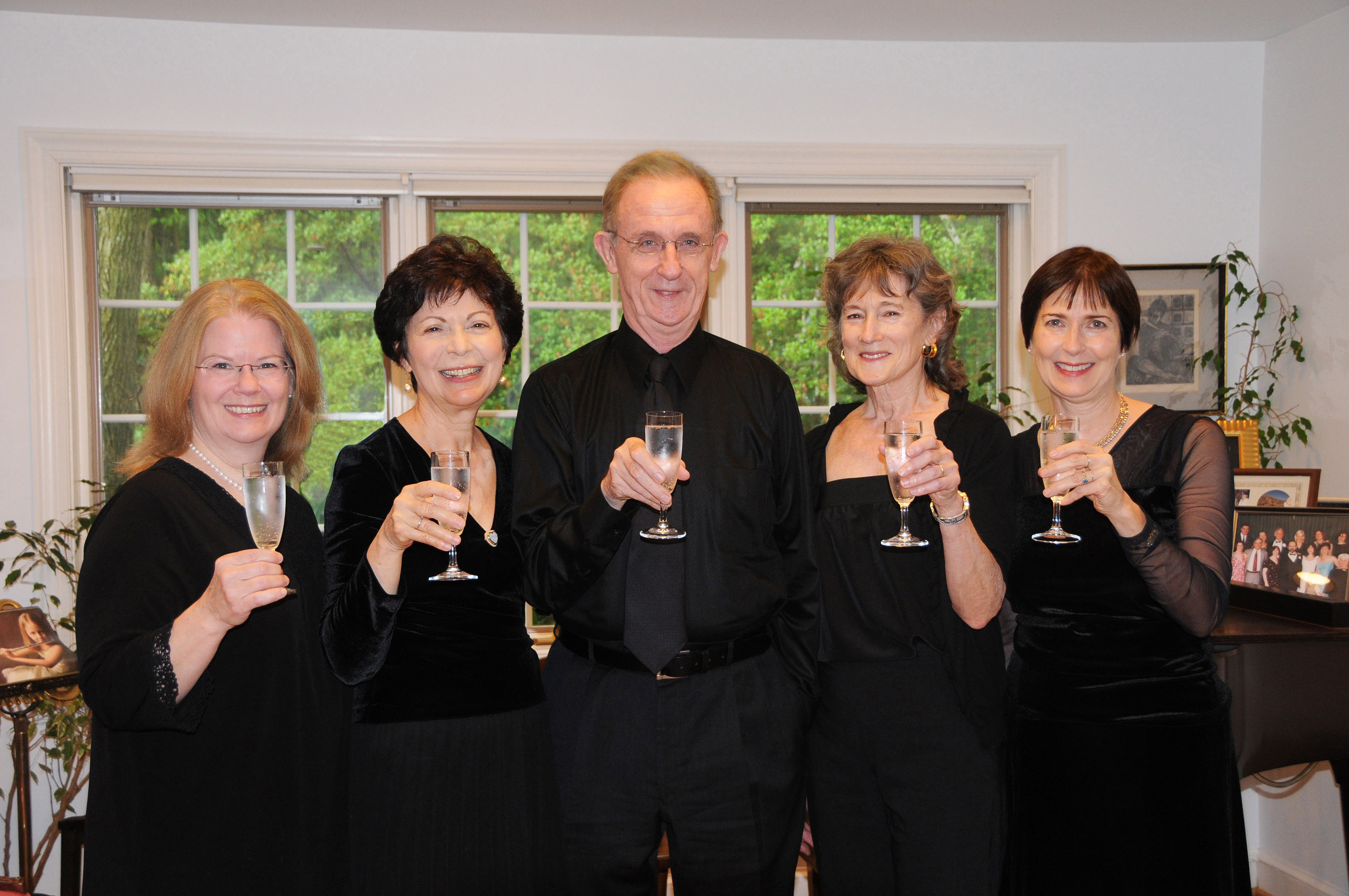 Photo by William Haroutounian
Alice Kogan Weinreb, flute
Alice Kogan Weinreb is a member of the National Symphony Orchestra and has performed as a soloist with the orchestra at the Kennedy Center. She is co-principal flutist of Eclipse Chamber Orchestra, and premiered Truman Harris' Concertino for Flute with the ensemble. Ms. Weinreb serves on the faculty of The Catholic University of America and teaches in the NSO Youth Fellowship Program. In the summer, she performs at the Grand Teton Music Festival in Jackson Hole, Wyoming. Ms. Weinreb studied in France under a Fulbright fellowship and was awarded first prize in flute at the Ecole Normale de Musique de Paris. She is the featured artist on two recordings of works by Margaret Brouwer, Crosswinds on CRI and Light on New World Records. In February 2010, Ms. Weinreb premiered David Teie's Butterfly Concerto with Eclipse Chamber Orchestra.
Kathleen Golding, oboe
Kathleen Golding is a member of the Kennedy Center Opera House Orchestra and serves on the faculty at American University. She has played co-principal oboe in the Orchestra de la Mineria in Mexico City, acting principal oboe with the Grant Park Symphony Orchestra in Chicago, and has participated in the Marlboro Music Festival in Vermont. Most recently, Ms. Golding performed and coached chamber music at the Music Masters Festival in Kazusa, Japan. She has performed with the National Gallery Orchestra and Washington Concert Opera, and as a soloist at the Corcoran Gallery of Art, Library of Congress, and Terrace Theatre. Ms. Golding can be heard on performances recorded on the Smithsonian and Musical Heritage labels.
Lora Ferguson, clarinet
Lora Ferguson joined the Capitol Woodwind Quintet in 1977, a few months after its founding. She has been a member of the Kennedy Center Opera House Orchestra since 1980, serving as assistant principal clarinet and four seasons as acting principal clarinet. Her career as a freelancer has included principal clarinet positions with the Filene Center (Wolf Trap) Orchestra, National Gallery Orchestra, Washington Concert Opera, American Chamber Orchestra, Virginia Chamber Orchestra, American Camerata for New Music, and Amadeus Orchestra. Lora teaches at the Levine School of Music, George Washington University and George Mason University. An avid chamber musician, she enjoys performing with her colleagues on the Millennium Stage at the Kennedy Center and at other venues.
Laurel Bennert Ohlson has held the position of Associate Principal Horn with the National Symphony Orchestra since 1980, and is a member of the Eclipse Chamber Orchestra. She has appeared as a soloist with the National Symphony Orchestra, Eclipse Chamber Orchestra and Virginia Chamber Orchestra, and is an active performer and teacher through the NSO's Youth Fellowship Program, Summer Music Institute, and annual State Residencies. Ms. Ohlson has presented horn recitals and Wagner tuba clinics for the International Horn Society and International Women's Brass Conference. She has served on the Board of Directors of the IWBC since 1991, and is currently vice-president of that organization. A graduate of Boston University School for the Arts, Ms. Ohlson majored in horn performance with a minor in mathematics.
Truman Harris is assistant principal bassoon with the National Symphony Orchestra and a member of Eclipse Chamber Orchestra. A graduate of The University of North Texas, he is an instructor at The Catholic University of America. Also a composer and arranger, his Prelude was premiered by the National Symphony Orchestra under Leonard Slatkin in 1996. Truman's Autumn Dances and Flowers were premiered by the Capitol Woodwind Quintet, and his Concertino for Flute and Chamber Orchestra and Concertino for Horn and Chamber Orchestra were premiered by Alice Kogan Weinreb and Laurel Ohlson with Eclipse Chamber Orchestra conducted by Sylvia Alimena. Truman maintains the Capitol Woodwind Quintet web site, and is married to Laurel Ohlson.